Blockseminar: The "Internet of Things" for industrial applications
Dr. Andreas Scholz (Siemens Corporate Technology)
Dr. Christian Winkler (Siemens Corporate Technology)
Information
Content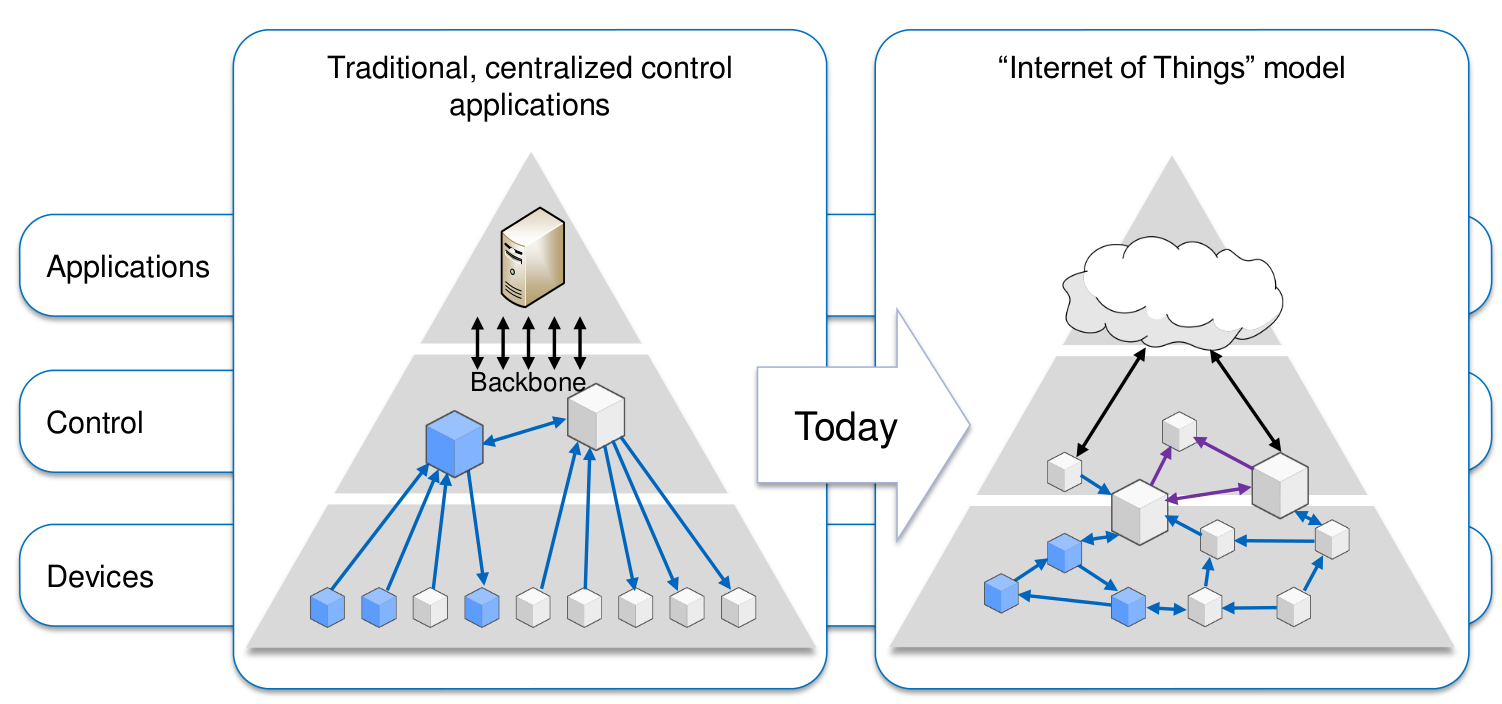 The "Internet of Things" (IoT) is describing billions of embedded devices that are communicating with each other through Internet technology - without direct involvement from humans. In the industrial context, the IoT means the shift towards cooperative, distributed networks and control structures from centralized and hierarchical control. Formerly passive sensors are becoming active participants in networks and are enhanced with the capability for computations and decision making. Thus, a "device" is turned into a "smart object" whose number will eclipse the number of traditional Internet endpoints (computers, tables and smart phones) in the near future.
This seminar is dedicated to the technologies enabling the IoT and its applications from an industrial viewpoint.
Requirements
The requirements for a passing grade in the seminar are:
Giving a 30 minute presentation (including discussion) of your topic in English. This count towards 50% of your final grade.
Writing a seminar paper in either German or English. The length should be approximately 4 (Bachelors seminar) to 6 pages (Masters seminar) in IEEE layout. This count towards the other 50% of your final grade.
Participation during the introductory session and the block seminar days.
Organization
Important dates

Oct. 24th

Registration for topics by e-mail

Nov. 8th

Session on how to give a good seminar talk (optional)
16:00 in room 02.09.014

Dec. 13th

Session on scientific paper writing (optional)
16:00 in room 02.09.014

canceled

before Dec. 7th

Discussion of talk outline with advisor

before Dec. 21st

Discussion of slides with advisor
Jan 8th.
16:00 - 20:00 Block seminar in room 02.09.023
Jan 16th.
16:00 - 20:00 Block seminar in room 02.09.014

before Feb. 1st

Discussion of paper draft with advisor

Feb. 7th

Finished seminar paper due

An introductory session will be held on Oct. 17th at 16:00 in room 02.09.014. Participation is mandatory.
All avaliable places have been filled!
The language is English for talks, German or English for the seminar paper
How to give a seminar talk and write a paper
Topics
Topic slides from the introductory session
IoT technologies: semantics
Self-description of data and devices will play a major role in the feasibility of the IoT idea on a larger scale. On the one hand, suitable semantic technology (e.g. from the semantic web) has to be developed or adapted for machine-to-machine communication. On the other hand, existing ontologies from different domains have to be integrated to enable the migration of today's applications to the IoT. Interesting approaches for both topics exist today, for example W3C Semantic Sensor Networks.
IoT technologies: data processing
Millions of devices and billions of measurements bring with them new challenges for data processing. In this topic area, new approaches to modelling, interpretation and processing of such data is presented (e.g. data-stream management systems, complex event processing).
IoT technologies: low energy communication
To enable smart objects to operate with extensive battery life or soley with harvested energy, low power communication is especially important. The employed protocols and strategies for communication and distribution of functionality to devices in the network (e.g. balance between local preprocessing and data transmission) are playing a major role in this regard.
IoT technologies: constrained devices
Smart objects are nodes with constrained computational and memory resources. Nevertheless, they are expected to communicate with existing Internet and web-technology in an interoperable manner. This requires resource optimized implementations of the typical protocol stacks as they are too demanding otherwise. These implementations are the basis on which smart objects can participate in the Internet.
IoT applications: electro mobility
This topic area is focused on the challenges and solutions for charging a large fleet of electric vehicles. This is only possible through intelligent cooperation between vehicles, charging stations and the electric grid.
IoT applications: smart grid
This topic area is examining challenges and solutions for the future electric grid. As energy production is becoming more distributed through photo-voltaic, wind and other renewable energies, the complexity of the grid is increasing and intelligent grid participants are required to coordinate via the Internet to ensure the stability of the grid.
IoT applications: home/building automation
This topic is dedicated to challenges and solutions for future home and building automation. The falling price of highly integrated system-on-chip solutions is enabling the use of smart devices in home and building automation. These devices are not only communicating locally but are also directly connected to the Internet and services available in the cloud.